Red Sea Max Media Basket
Item #: RSM3V20
Manufacturer: inTank
Red Sea Max Media Basket
Tired of the chamber of death? Upgraded to the Tunze 9001 or another skimmer? Then this media basket is for you. This the very first and original inTank Media Basket. It greatly improves the filtration in your Red Sea Max by forcing water through media, and catching detritus at the start under the intake grate. Media and filter floss changes are very easy.
Works in the Max 130 and 130D, stock skimmer must be removed
Three shelf design
Superior design forces water though media
Includes special top bracing for skimmer mount
Large lower shelf to fit various media
Easy installation, drop under intake skimmer grate
Provides a mounting point for the Tunze skimmer
Easy to clean and remove
Organized
Fits Tunze 9001, Euro-Reef and Hydor Slim Skim Nano
Yes there is still room for a chiller pump place to the left and under Tunze 9001
15-1/2" Tall
3-3/4" Wide
3-3/8" Deep
Media top picks: Filter Floss top, Purigen middle, Chemi-Pure Elite or Chemi Pure Blue - bottom
This is the original and world famous media basket for the RSM. Strong construction combined with a perfect fit allows you to organize and increase your filtration. Simple to use, just drop into the tank under the intake skimmer grate. Includes strong top bracing to help support skimmer if attached. **Will only work if the stock skimmer is removed. Notice top bullet, does not fit in RSM250.
It is recommended that you place filter floss on the top shelf. Media of your choice on the second and third. inTank uses Purigen and Chemi Pure Elite on their baskets.
Mounting: You can mount the Tunze 9001 directly to the basket with the supplied magnets that are included with the protein skimmer. This install requires no further modification to any product and the top bracing will support the weight and stress of the Tunze. For a more advanced user, the skimmer can be mounted to the rear of the tank using the supplied magnets on the 9001. inTank only recommends this installation to a customer with some Do-It-Yourself skills. Please read all instructions prior to use and installation.
Installation video and pictures:
There is not a hole in the side of the media basket, the black circles are the magnets of the Tunze 9001
Customer Video:
Tie Chemi Pure to middle shelf. This will pick media off lower shelf and allow maximum flow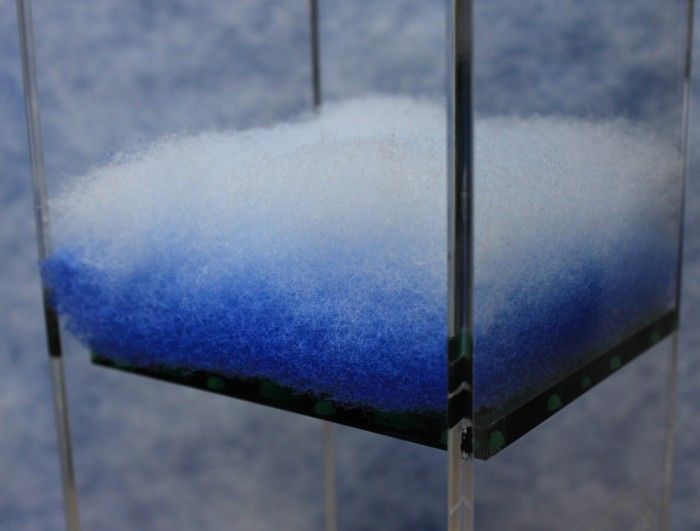 inTank Specials
Related Items